What's Inside?
Still reliant on legacy infrastructure? Now is the time to scale and adapt.
One challenge companies face in this mercurial industry is inventory surpluses, which can be attributed to overcompensating for bottlenecks and congestion. A wealth of supply chain uncertainty resulted in shipping and transit backlogs, as well as far-reaching strain within the market.
But as burdens ease on the supply chain, now is when companies should be looking into how they can modernize and optimize their strategy through the use of machine-learning technology. This will allow for better inventory management in the future.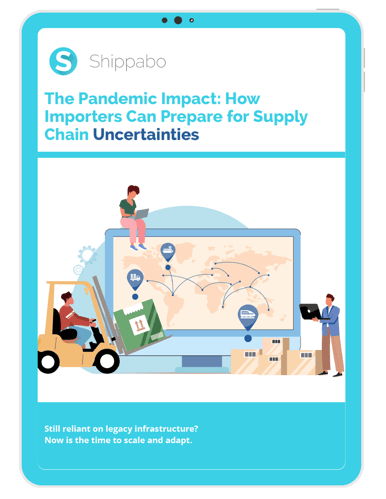 Download the free whitepaper!
Modernized Your Supply Chain
Secure capacity online

- request and plan for container space in advance to better manage your costs

Gain SKU-level visibility - know what products are coming and when so you can quickly build your sales strategy
Go paperless - manage every shipment online and lessen your carbon footprint
Centralize communications

- one place to communicate with internal teams, suppliers, and external partners
What Our Importers Are Saying
"Better and quicker supply chain visibility led us to save 10-15% in ocean cost and reduced the number of hours to send emails from four to two hours a day."
Kevin Boeck | Value Vinyls
"Shippabo gave me space when my shipping contracts with the carriers refused to give me the space."
Ken Eschmann | Golf Gifts and Gallery
Shippabo saved me $500K in ocean shipping through their contracts during the 2020 shipping market rate soar."
Connie Tang | JR286
200+ Customers rely on Shippabo